FÁTIMA HALF DAY TOUR (5H)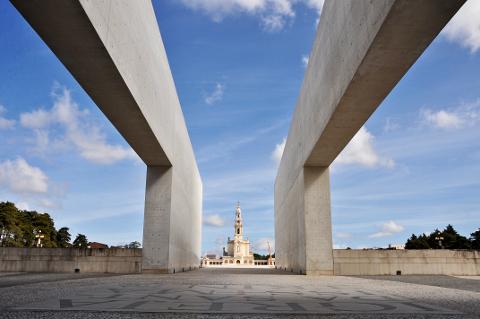 Duration: 5 Hours (approx.)
Product code: FÁTIMA HD TOUR
FÁTIMA (HALF-DAY TOUR)
Includes:

Hotel pickup (or nearest location possible) only in certain areas of Lisbon city center. It may be required to get to a meeting point for pick-up.
Drop-off at 2 centrally located points: Restauradores square / Marquês de Pombal
Small-group tour (8 people max.)
Informal local guide / driver
Transport by air-conditioned minivan

Live commentary on board
WiFi available in the minivan
Entrance to the old houses where the 3 shepherd children lived
Itinerary

9:00 - Departure from Lisbon
10:30 to 11:10 - Guided visit at the Three Shepherds old houses
11:20 - Arrival to Fátima Sanctuary (free time to attend mass, to purchase souvenirs, and explore the area)
13:00 - Return to Lisbon
14:30 - Drop-off at Marquês de Pombal or Restauradores square

Notes:

All these times and duration are approximate (+/- 10 min.)
Departure time from Lisbon, counts from the last pick-up; starts at 8:00.
Please be aware that we only stay in Fátima Sanctuary for 1 Hour and 45 minutes.
This tour is exclusively dedicated to the region of Fátima and its most emblematic places that are part of the origin of the religious phenomenon. When we reach Fátima you can visit the Sanctuary grounds, a place of great symbolism since it was here that between 1916 and 1917 the figure of Our Lady presented herself to the Three Shepherds to communicate a set of revelations.
In Fátima there is much to see, namely the Chapel of the Apparitions that marks the most precise place where they happened. Today, the Sanctuary has become an impressive place of faith and it is virtually impossible to remain indi¤erent to the energy that hangs in the air, even for non-believers. There are two basilicas here: the one of Our Lady of the Rosary, made of stone and marble in neo-baroque style. The Holy Trinity Basilica is much more recent (2007) being the fourth largest Catholic temple in the world in capacity.
In addition to these sites at opposite points of the Sanctuary, you will have time to observe other places, such as the home of the Three Shepherds (Francisco and Jacinta Marto's house and Lucia's house), in the town of Aljustrel. In this space, we can find a faithful reconstruction of scenes from other times using old objects such as family photographs, clothes, kitchen utensils, furniture, among others. A unique tour through the faith and history of one of the most famous places in Portugal...
________________________________________________________________________________________________________________________
FÁTIMA (TOUR DE MEIO-DIA)
Incluído:

Recolha no seu hotel (apenas localizados no centro de Lisboa). Pode ser necessário a sua deslocação até um ponto de encontro para a recolha.

Largada efetuada em dois pontos no centro de Lisboa: Praça dos Restauradores ou Marquês de Pombal.
Passeio de grupo pequeno (8 pessoas max.)

Guia profissional mas informal
Transporte efectuado em minivan com A/C

Comentários ao vivo e a bordo
WiFi disponível no interior do veículo
Entrada na antiga casa das crianças (os '3 Pastorinhos')
Itinerário

9:00 - Partida de Lisboa
10:30 to 11:10 - Visita guiada ba casa onde viveram os 3 Pastorinhos
11:20 - Chegada ao Santuário de Fátima (tempo livre para assistir a uma missa, comprar souvenirs e explorar a seu bel-prazer)
13:00 - Regresso a Lisboa
14:30 - Largada no Marquês de Pombal ou Praça dos Restauradores
Notas:
Todos estes tempos e horários são aproximados (+/- 10 min.)
O horário de partida de Lisboa conta a partir da última recolha de clientes; pode ser antes ou depois das 9H00.
Por favor, tenha em mente que apenas ficamos no Santuário, cerca de 1 Hora e 45 minutos.

Este passeio é exclusivamente dedicado à região de Fátima e aos seus locais mais emblemáticos que fazem parte da origem do fenómeno religioso. Ao chegarmos a Fátima poderá visitar o Santuário, local de enorme simbologia pois foi aqui que entre 1916 e 1917 a figura de Nossa Senhora se apresentou aos Três Pastorinhos para lhes comunicar um conjunto de revelações.
Em Fátima existe muito para ver, nomeadamente a Capelinha das Aparições que marca o local mais preciso onde elas aconteceram. Hoje, em dia o espaço tornou-se um impressionante local de fé e é praticamente impossível ficar indiferente à energia que paira no ar, mesmo para os não-crentes. Existem aqui duas basílicas: o da Nossa Senhora do Rosário, mais antiga, feita de pedra e mármore em estilo neobarroco. A Basílica Santíssima Trindade é bem mais recente (2007) sendo o quarto maior templo católico do mundo em capacidade.
Ainda poderá visitar as casas dos Pastorinhos (a casa do Francisco e Jacinta Marto e a casa da Lúcia), na localidade de Aljustrel.Neste espaço podemos encontrar uma reconstituição fiel de cenas de outros tempos usando objetos antigos como fotografias da família, roupas, utensílios de cozinha, mobília, entre outros. Um passeio pela fé e pela história de uma das mais famosas localidades de Portugal…